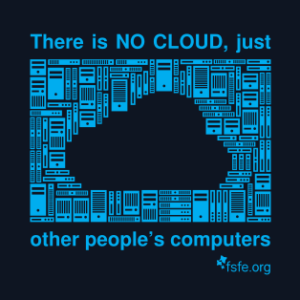 At FSFE we have been asked many times to come up with translations of our popular "There is no CLOUD, just other's peoples computers" slogan. This week we started the localization by asking our translator team and have been very surprised to see they already come up with translations in 16 different languages.
In addition, our current trainee Olga Gkotsopoulou and asked her international network and we asked on twitter for additional translations. And, what can I say? crowdsourcing seldom felt so appealing. In two hours we got 8 more translations and after 24 hours we already had 30 translations.
The quickness in that we got so many translations shows us that the slogan is indeed at the pulse of time. People are happy to translate it because they love to send this message out. At the time of writing we now have 36 translations and two dialects on our wiki-page:
[AR] لا يوجد غيم, هناك أخرين كمبيوتر
[BR] N'eus Cloud ebet. Urzhiataerioù tud all nemetken.
[CAT] No hi ha cap núvol, només ordinadors d'altres persones.
[DA] Der findes ingen sky, kun andre menneskers computere.
[DE] Es gibt keine Cloud, nur die Computer anderer Leute.
[EL] Δεν υπάρχει Cloud, μόνο υπολογιστές άλλων.
[EU] Ez dago lainorik, beste pertsona batzuen ordenagailuak baino ez.
[EO] Nubon ne ekzistas sed fremdaj komputiloj.
[ES] La nube no existe, son ordenadores de otras personas.
[ET] Pole mingit pilve, on vaid teiste inimeste arvutid.
[FA] فضای ابری در کار نیست، تنها رایانه های دیگران
[FR] Il n'y a pas de cloud, juste l'ordinateur d'un autre.
[FI] Ei ole pilveä, vain toisten ihmisten tietokoneita.
[GL] A nube non existe, só son ordenadores doutras persoas.
[GA] Níl aon néal ann, níl ann ach ríomhairí daoine eile.
[HE] אין ענן, רק מחשבים של אנשים אחרים
[HY] Չկա ամպ, կա պարզապես այլ մարդկանց համակարգիչներ
[IT] Il cloud non esiste, sono solo i computer di qualcun altro
[JP] クラウドはありません。 他の人のコンピュータだけがあります。
[KA] არ არის საწყობი ,მხოლოდ ბევრი ეტიკეტებია ხალხში სხვადასხვა ენებზე
[KL] Una pujoqanngilaq – qarasaasiat allat kisimik
[KO] 구름은 없다. 다른 사람의 컴퓨터일뿐.
[LB] Et gëtt keng Cloud, just anere Leit hier Computeren.
[NL] De cloud bestaat niet, alleen computers van anderen
[TR] Bulut diye bir şey yok, sadece başkalarının bilgisayarları var.
[TL] walang ulap kundi mga kompyuter ng ibang tao
[PL] Nie ma chmury, są tylko komputery innych.
[PT] Não há nuvem nenhuma, há apenas computadores de outras pessoas.
[RO] Nu există nici un nor, doar calculatoarele altor oameni.
[RS] Ne postoji Cloud, već samo računari drugih ljudi.
[RU] Облака нет, есть чужие компьютеры.
[SQ] S'ka cloud, thjesht kompjutera personash të tjerë.
[SV] Det finns inget moln, bara andra människors datorer.
[UR] کلاوڈ سرور کچھ نہیی، بس کسی اور کاکمپیوٹر۔
[VI] Không có Đám mây, chỉ có những chiếc máy tính của kẻ khác.
[ZH] 没有云,只有人们的电脑.
And again: If you miss your language or dialect, add it to the wiki, leave it as a comment or write me a message and I will add it.