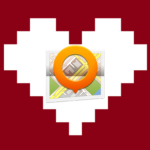 I am a traveller, a person who spents his money and spare time to leave home and see the world. That is why I am in need of a good Free Software navigation system. For IloveFS Day 2016 I like to thank all Free Software contributors and highlight my personal favorite OpenStreetMap-based navigation app: Osmand
For me, Osmand is the perfect match between simplicity and complexity. You can choose to use it for a simple map illustrator or as an offline navigation system including voice directions. Also, you can choose to see a simple map or show multiple layers to also see transportation systems, points of interests, hillshades, wikipedia entries and much more. Or you can enable a variety of plugins to customize your application or to enable advanced features. One of them is to edit and contribute to the source of OpenStreetMap.
Since this makes contributes anytime spontaneously to OpenStreetMap very easy, on #IloveFS, I like to thank the people behind Osmand by sharing a how-to add locations to OpenStreetMap with Android (or an Android custom-ROM). It is fun, easy and free.
This way I also hope to inspire other people to take their mobile once in a while and to map the world together.
Please note: this is an updated How to for Osmand version 2.2+. Please read my former Howto, if you run Osmand 2.0 or 2.1.
Read More →